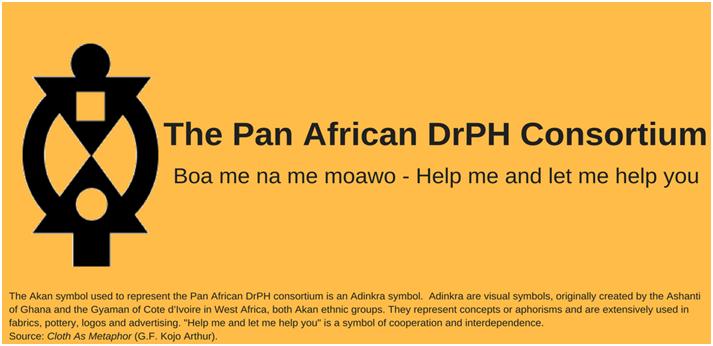 In a first for the continent, universities in West, East and South Africa, with the support of partners in the US and UK, are working on developing a Pan African Doctor of Public Health (DrPH) degree. This degree will have a focus on public health leadership in Africa and is aimed at current and potential strategic-level leaders who intend to advance a professional practice career in public health. In this blog, Irene Akua Agyepong tells us more about the rationale for this initiative, the programme's concept and components, as well as initial implementation steps in Ghana and Nigeria.
Rationale
Despite notable successes in public health in sub-Saharan Africa (SSA), health systems remain challenged. Apart from the need to address financial, essential technology, equipment, tools, supplies and human resource challenges, strengthening health systems also requires attention to management and leadership.
Resilient and effective leadership does not come by accident. Like excellence in many other endeavours it needs to be developed, nurtured and supported. Tichy observes that winning organisations have leaders distributed through all organisational levels and recognise the need to continuously grow and support leadership. The AHPSR has made similar observations about the importance of distributed and team leadership. Effective leadership is an individual, as well as a distributed and group phenomenon in complex organisations. It can be nurtured through appropriately selecting, training, coaching and mentoring present and future leaders.
MPH programmes are now widely available across SSA. While they play a crucial role in building mid-level public health expertise and leadership, there exists a continuing vacuum for capacity building and support of high-level professional, strategic public health leadership.
Globally, terminal academic training in public health can be in the form of the Doctor of Philosophy (PhD) or the Doctor of Public Health (DrPH) degree. PhDs are typically aimed at trainees who want to work in research and academia in public health specialisations such as epidemiology, health economics, and health policy and systems.
The DrPH is targeted at individuals who want to remain in professional public health practice. It aims to prepare trainees for evidence-based public health leadership, including practice-oriented research, translation of evidence into policies and programmes, and field-based roles. The DrPH concept has been around for decades, with several schools of public health in the USA, UK and Asia offering the degree. There are no established programmes in SSA.
Health professionals in SSA who want to pursue DrPH training have to do so outside the continent. This puts the training out of reach for many because of the tuition, travel and subsistence costs.
For example, in the 2016/17 academic year, the non-resident tuition fees for the UNC-Chapel Hill School of Public Health Executive Doctoral Programme were US$ 1,545.42 per credit hour, which amounts to US$ 69,543–78,816 over the programme's 4 years. The programme uses a mix of short residential campus periods interspaced with longer workplace-based learning blocs; with weekly online contact between students and facilitators durimng the first two years. Thus, additional to tuition fees are the costs of the three annual campus visits for the face-to-face contact, computer equioment, internet access, headphones, books etc. Costs in other programmes, for example those of the Johns Hopkins Bloomberg School of Public Health, the Harvard T. Chan School of Public Health, and the London School of Hygiene and Tropical Medicine are similarly high.
In the absence of generous scholarships – which are not many or easy to find in relation to the need – these fees are generally out of reach of the average public health practitioner and leader in SSA. Clearly, providing public health professionals in SSA with widespread access to the benefits of a DrPH requires high-quality, but less expensive training opportunities within SSA itself.
At the same time, though tertiary academic institutions in SSA have, to varying degrees, capacity assets such as ongoing teaching and research, staff, and infrastructure, these are generally very inadequate in relation to the needs of the sub-region. Undergraduate and postgraduate training institutions all over SSA are challenged by contextual, economic, human and other resource and capacity constraints, which are generally far more severe than those of their counterparts in the Global North. Innovative strategies are needed to meet the needs despite these constraints.

The Pan African DrPH Consortium Concept
To meet SSA's need for a relatively affordable, high-quality DrPH programme with a strong focus on strategic leadership for health sector transformation and a uniquely SSA orientation, a network of tertiary institutions in SSA partnered with institutions in the US and UK to establish the Pan African DrPh consortium in 2013.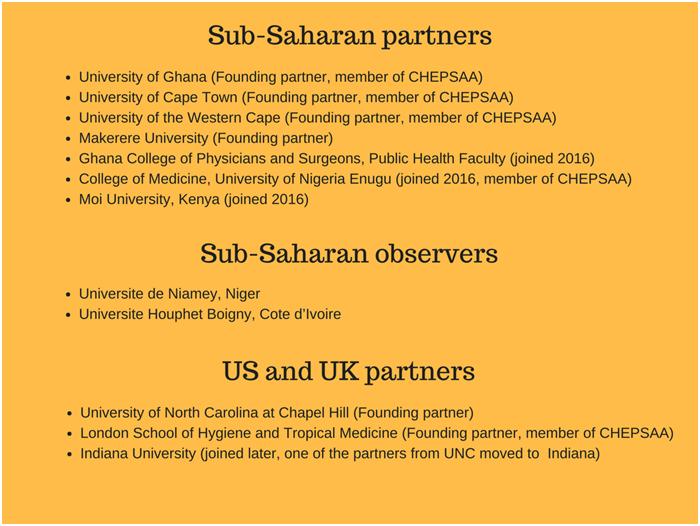 The vision of the Pan African DrPH consortium is to collaboratively design and implement a Pan African DrPHprogramme with a focus on public health leadership for Africa, for current and potential leaders who intend to advance a professional practice career in public health. The South-South and South-North consortium enables the pooling of capacity resources to overcome individual institutional challenges. The Southern partners brought to the collaboration their experience and understanding of tertiary education in SSA, while the Northern partners brought their established experience in developing and implementing innovatively designed DrPHprogrammes with a focus on public health leadership.
The DrPHProgramme for health leadership in Africa will seek the development of transformational strategic senior-level leadership for the health and health-related sectors of SSA. In line with this vision, its objective is to develop health professionals and practice leaders with high-level leadership skills and abilities – and the will to use them – to support the attainment of the vision and mission of public health of "fulfilling society's interest in assuring the conditions in which people can be healthy".
Leaders with careers in high-level administration and management, policy and practice in the health sectors of SSA face the particular challenge of understanding and adapting scientific knowledge to achieve health gains in resource-constrained and varying contexts. They need to be able to apply advanced analytical and conceptual capabilities to these challenges. The DrPHprogramme will develop in its candidates competencies beyond those of MPH programs, with increased emphasis on integrative, high-level skills in leadership, research, and the application of core public health concepts.
In the medium- to long-term it is anticipated that the trainees would assume transformational leadership roles in the health systems of SSA and contribute to improved leadership, stewardship and governance within these health systems. It is anticipated that these efforts will contribute towards improved and equitable health outcomes in SSA and thus affect the lives of all – including the poorest and most vulnerable.
Work: What has been achieved so far?
The consortium completed a baseline assessment of strategic leadership development needs, relevant competencies and stakeholder perceptions of the need for the programme in Ghana, Uganda and South Africa in 2014. The results were shared during the Global Symposium on Health Systems Research that same year. Feedback on the results confirmed the relevance and need for the programme and provided addition useful input for thinking through how to operationalise the concept and optimiseprogramme and curriculum design.
The baseline assessment, the report of the DrPH competencies development by the Association of Schools and Programmes of Public Health (ASPPH) and brainstorming at a meeting of consortium partners informed the development of competencies for the programme. This was followed by the development of a programme concept and outline.
It is difficult, and not advisable if the intent is to build applied capacity, to require working professionals to spend extended time away from work while training. The workplace is the laboratory of professional leadership training and work experiences are themselves a core part of the learning. The Pan African DrPHprogramme design therefore involves focused face-to-face modules of a few weeks 2-3 times annually in the first two years; with structured and facilitated workplace-based learning in-between. Facilitating the workplace-based learning requires distance interactions between DrPH residents and facilitators, coaches and mentors. We are experimenting with adapting the UNC Chapel Hill concept of weekly online interactions between the DrPH cohort and facilitators, coaches and mentors in the context of SSA.
The consortium partners have also been working on the development of shared, open access modules and educational resources. Also, and critically, the partners have been working on getting accreditation to run the program in their institutions. This has not been straight-forward. The original plan envisaged the partner institutions running their programmes in parallel, with some synchronisation through faculty and student exchanges from 2016/2017. However, institutions' different accreditation requirements and the variable time involved in negotiating accreditation have made a synchronised start across institutions impossible in the short-term.
In the medium- to long-term, the consortium will stay with the original concept of independent institutional programmes with shared curricula and inter-dependent timelines that enable programme exchanges so that institutions, facilitators, coaches, mentors and trainee cohorts learn from each other. In the short-term, given the varied pace of programme accreditation, variations in academic accreditation procedures and different policies and priorities across tertiary institutions and countries, the partners have to work at a contextually optimal pace. This has meant variable progress in implementation.
In 2016, the Ghana College of Physicians and Surgeons (GCPS), Public Health Faculty became a partner in the Pan African DrPH consortium. The programme concept and curriculum has subsequently informed the development and implementation of the Health Policy, Systems and Leadership track of the college's membership and fellowship programme. This track's implementation began in late 2016 and two cohorts of residents (2015/2016 and 2016/2017) are currently being trained using the Pan African DrPHprogramme concept, which is suitable to the applied and professional physician postgraduate training focus of the GCPS.
The GCPS was established as a national postgraduate college to train specialists in medicine, surgery and related disciplines in January 2003. The Public Health Faculty, currently under the chairmanship of Dr. Nana Enyimayew, is one of the faculties under the division of physicians. The Public Health Faculty runs a two-year membership and a four-year fellowship programme.
The two-year membership programme uses face-to-face teaching blocks of a few weeks about three times a year; interspaced with workplace-based learning and practicums that rely on learning-by-doing, coaching and mentoring. This is very much in line with the concept of the Pan African DrPH. Residents who do an additional two years to earn a fellowship spend this time doing applied workplace and field-based research in their sub-disciplinary area of specialisation that is effectively equivalent to doctoral dissertation work. Health Policy, Systems, Management and Leadership is one of the sub-speciality tracks residents can opt for and the applied nature of health policy and systems research is very relevant for the dissertation of those who chose this track.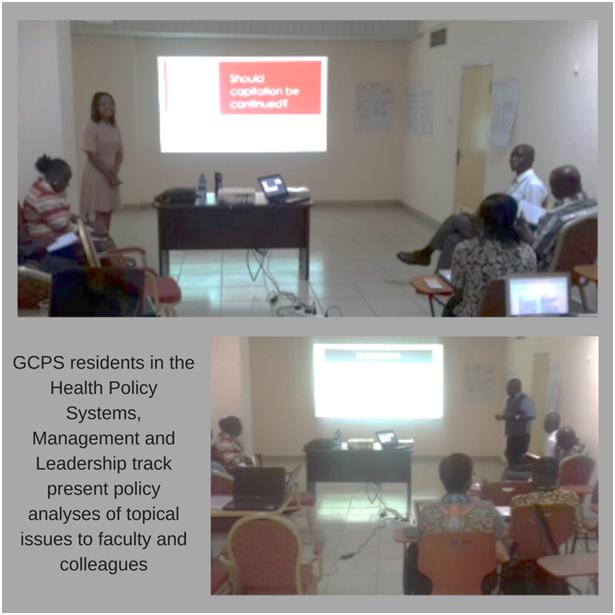 The College of Medicine, University of Nigeria Enugu (COMUNEC), which also joined the consortium in 2016, has obtained accreditation to run a DrPH with sub-speciality tracks. With the consortium, they are considering how to adapt the Pan African DrPHprogramme concept and modules for a track in Health Policy, Systems and Leadership. COMUNEC is currently working with Indiana University and Moi University to replicate the original baseline assessment in Nigeria and Kenya.
Potential future partners from Francophone West Africa – Universite de Niamey in Niger and UniversiteHouphetBoigny in Cote d'Ivoire – participated as observers in the consortium meeting in Accra in December 2016.
The question of target groups is an important issue that has emerged as the programme concept has developed and started implementation. The initial programme concept targeted managers and leaders already in senior, strategic-level positions. However, the baseline assessment, subsequent observations and discussions also point to a need among mid-level, mid-career managers and leaders aspiring to more strategic positions. Many of these will become the next generation of strategic-level leaders in the health sectors and systems of SSA, and are eager to prepare for the possibility of increased responsibilities. Should cohorts be a mix of these different constituencies or should there be separate programmes?
There are some who have suggested that a 6–12 months executive master in leadership-type programme, rather than a degree such as the DrPH, is the most appropriate for officers already in strategic-level positions. In the short- to medium-term perhaps the most critical thing is to implement the programme concept and keep it alive and learn by doing. Aspects of the current concept can be adapted for shorter executive masters-style programmes in annual and mid-year or summer schools. The partner tertiary academic institutions may have to use a continuous quality improvement approach of implementing various options, monitoring and evaluating and fine-tuning to optimise the model that works best in context.
Irene Akua Agyepong, Research and Development Division, Ghana Health Service / Ghana College of Physicians and Surgeons
 Also posted on: http://hpsa-africa.org/index.php/hpsr-blog/chepsaa-support/132-if-a-single-tree-takes-the-force-of-the-wind-it-falls-rationale-concept-and-work-of-the-pan-african-drph-consortium